The following article was written by Invoketress Dance troupe member Alaina and was published in The Guelph Mercury on June 16, 2015.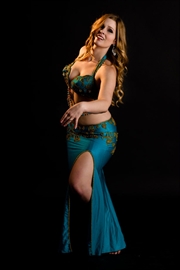 Photo by Scott McQuarrie
University of Guelph history PhD student Anne Vermeyden (pictured above), a dancer herself, is investigating the rich but largely unwritten past of belly dance in Toronto, and why it has flourished there.
Guelph Mercury
GUELPH — Belly dance is an art form celebrated and practised among many cultures and regions of the world — including Canada, new research shows.
University of Guelph history PhD student Anne Vermeyden, a dancer herself, is investigating the rich but largely unwritten past of belly dance in Toronto, and why it has flourished there.
So far, most research on belly dance history in North America has been largely focused on the United States. Vermeyden says the art form's presence in Canada should be recognized, too.
"This research will contribute to the growing Canadian voice in the transnational history of belly dance," says Vermeyden. "Placing the story of belly dance on the academic map will encourage the public and performers to give the dance form and its history the respect it deserves."
Vermeyden believes that the ability to powerfully express emotion through movement is one of the reasons why so many women in Canada have found a connection to the dance form. Belly dance allows for improvisation, which has offered women in Canada an alternative to more structured, Western dances.
She's interviewing dancers and musicians who were involved in the first substantial wave of belly dance in Toronto, beginning in the 1960s. She's researching all facets of their dance careers, including their styles, their teachers, the economic effect of belly dance and how the dance has been meaningful to them.
Belly dance has grown to become an umbrella term for several different styles of dance that originate from across North Africa and the Middle East, all of which are physical expressions of musical qualities, and focus on the undulation and articulation of the torso, arms and hips.
Different regions have belly dance "accents," with specific musical and movement qualities. Egyptian style cabaret belly dance is, for example, very distinguishable from American style cabaret belly dance. Egyptian style, with roots in folkloric dance there, was cemented in Egyptian cinema and cabarets during the 20th century. American cabaret style, on the other hand, was developed by North American dancers who were taught by Arab, Greek and Turkish musicians and dancers, and fused elements of these various regional styles together within a North American context.
In the 1960s and 1970s, factors such as second-wave feminism also helped to inspire interest among Canadian women to find power in their bodies through dance. At this time, dancers became more interested in the culture and history of belly dance, not only the movement.
In her preliminary research, Vermeyden has found references to belly dance in Canadian newspapers as far back as the late 19th century.
That's about the time many North Americans were first introduced to the idea of belly dance, in spectacles such as the numerous "ethnographic" exhibits in the Midway Plaisance of the World's Columbian Exposition of 1893. The presentation of belly dance forms at this World's Fair often perpetuated Orientalism, where East Asian and Middle Eastern regions were generalized and displayed as exotic and uncivilized.
While it is important to acknowledge the issues of Orientalism in belly dance, Vermeyden aims to create a more complex picture of its layered and constantly evolving history. Her preliminary research indicates that since the early 1970s, the dance form has had the ability to both cement and undermine Orientalist attitudes about North Africa and the Middle East in Canada.
The research is in collaboration with Drs. Femi Kolapo, Barbara Sellers-Young, Renée Worringer, and Jeff Grischow, and is sponsored by the University of Guelph and the Ontario Graduate Fellowships program.
This article was written by a participant in the Students Promoting Awareness of Research or SPARK program at the University of Guelph.